Low Homocysteine? Not Good.
---
What do you think of when you hear the word – homocysteine?
Bad. Cardiovascular disease. High blood pressure. Toxic. Lower the better.
I am challenging this thinking right now.
When I think of homocysteine, I think of this:
The body has to make homocysteine. It's an important building block for two very important compounds in our body. It must be balanced. Too low homocysteine is bad and too high homocysteine is bad.
When was the last time a health professional said, "Hmm. You have low homocysteine levels. We need to increase your homocysteine to help you feel better!"
This is a very rare occurrence.
If your health professional has said this to you, my hat is off to them!
Most research and, as a result most health practitioners and patients, focus on normal to high homocysteine.
Low homocysteine isn't even on their radar.
Medically speaking, low homocysteine doesn't really even exist.
I used the medical term for low homocsyteine, hypohomocysteinemia, in the National Library of Medicine to search for published papers on low homocysteine.
Here is what I got: (they wondered if I meant something else!)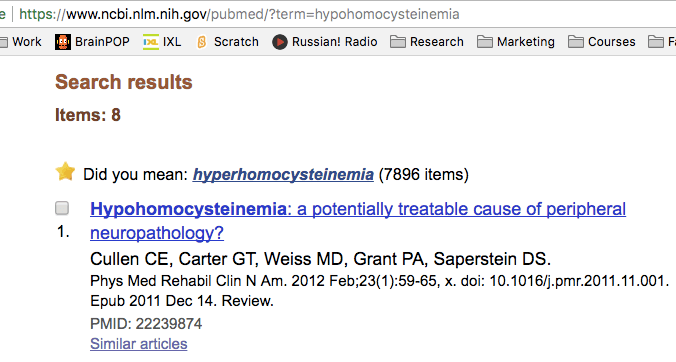 Only 8 results for hypohomocysteinemia (low homocysteine) compared to nearly 8,000 for hyperhomocysteinemia (high homocysteine).
I reviewed the one and only abstract on low homocysteine. Here is what they found:
"There is a striking relationship between hypohomocysteinemia and the incidence of idiopathic peripheral neuropathy."(2)
This makes total sense.
If one has low homocysteine, then how can they make glutathione?
If they cannot make glutathione well, then their nerves are very susceptible to oxidative stress and damage.
There it is.
We need a lot more research on the impact of low homocysteine on human biochemistry and physiology.
When research does publish findings on low homocysteine, they are confused or misinterpret it:
"Children with diabetes, in view of their higher future risk of cardiovascular disease, are characterized by a higher concentration of protective adiponectin and paradoxically lower blood concentrations of some other possible risk markers of atherosclerosis, i.e. ADMA and homocysteine compared to healthy children."(1)
To me, children with diabetes have higher reactive oxygen species which requires glutathione to neutralize them. Thus, a lower homocysteine level in a person with high free radical / reactive oxygen species tells me that their body is trying to fight it by producing glutathione.
Simple steps:
High free radical / reactive oxygen species -> increases demand for glutathione -> increases utilization of homocysteine especially in low sulfur diets
A Low Homocysteine is NOT Good.
First we have to define a 'low homocysteine'.
There are many papers which demonstrate that homocysteine around 6 or 7 is quite healthy for lowering cardiovascular risk.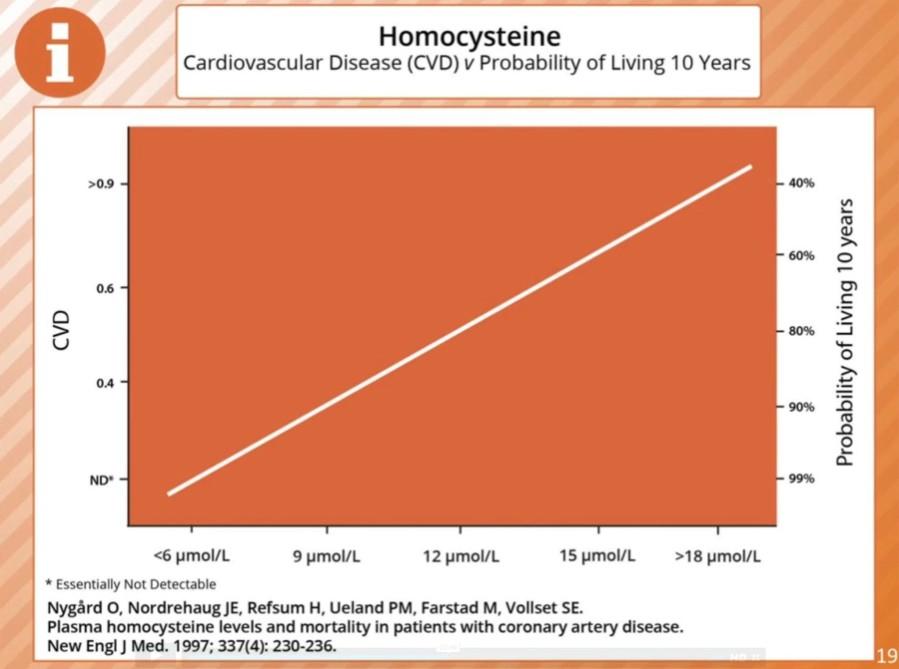 Is homocysteine only related to cardiovascular risk?
No.
Homocysteine is needed to help produce our body's primary:
methyl donor, SAMe.
antioxidant, Glutathione.
Hmmm.
So why is it ok to have no homocysteine as shown here?
It's not!
Who comes up with these things?
It is common sense that if we are low in a specific ingredient, we cannot make something.
If you're trying to make a romaine salad and the recipe calls for romaine, yet you don't have any romaine lettuce, can you make it?
No.
You need to make a different type of salad or just go without it.
In the case of producing your body's primary methyl donor, SAMe – you need homocysteine.
In the case of producing your body's primary antioxidant, glutathione – you need homocysteine.
In short:
No to low homocysteine translates to . . .
Causes of Low Homocysteine and How to Increase It
Low protein intake: need to make sure you are eating adequate protein. Approximately 1 gram per 2 pounds of body weight is a rough guideline.
Low sulfur intake: if one does not consume enough sulfur-containing foods, homocysteine will break down in order to provide much needed cysteine for the body. Cysteine is very important for many reactions. If cysteine levels are low, the body will break down glutathione in order to provide it! So not only does one become low in homocysteine, but also glutathione. Eating your cruciferous vegetables is very important as they contain sulfur. You can also support with MSM or NAC. If you don't do well with sulfur-containing vegetables or other foods – or sulfur-containing supplements, then you may have a molybdenum deficiency for various reasons. Molybdenum is the mineral needed to breakdown sulfites. Consider taking a molybdenum supplement and also determine why you need to. I prefer liposomal glutathione most the time to replenish lost sulfur levels. This is for many reasons.
Poor digestion and absorption of protein: eating protein is step one. Being able to digest it and absorb it is important. Consider chewing your food (shocker), reducing stress before and during eating (shocker), not drinking a ton during meals as it may dilute your digestive powers. You can support your digestive enzymes with a digestive enzyme supplement and increase stomach acid with a HCL supplement. If taking antacids, your stomach acid is lower and that is going to impact your protein and nutrient absorption. Fix your gastritis and acid reflux.
High demand for glutathione: if you are struggling with high amounts of inflammation, stress or free radicals, you are going to require a high amount of glutathione. Producing glutathione requires homocysteine. One can minimize their need of glutathione by reducing or minimizing stress with adaptogens, improving deep sleep, reducing inflammation and reducing exposure to chemicals. One can also reduce their demand for glutathione production indirectly by taking liposomal glutathione. Taking liposomal glutathione is helpful for many but if they are deficient in selenium, riboflavin or molybdenum or have high oxidative stress, it may backfire. This is why I formulated a liposomal glutathione with needed cofactors.
Too much methylation support. I'm a fan of methylation support. However, when it is not needed, it can lower your homocysteine levels too much. Maybe this is yet another reason why some people do not feel good from taking methyl donors? If your homocysteine level is too low, talk with your health professional about reducing your methylation support. You can use a multivitamin without any folate or B12, or you can use a multivitamin without any methyl donors yet contains folinic acid and hydroxocobalamin. If you are taking a B Complex with methylfolate and methylcobalamin, you should consider switching to one without these for a bit or just stop if possible. I formulated a B complex without folate and without B12.
Who else is thinking the same way I am about low homocysteine?
I scoured the research again to see if anyone else is thinking that low homocysteine is a problem.
It turns out that the only other one that I see out there is another naturopathic physician – and a well known one at that. Dr Joseph Pizzorno, one of the founders of Bastyr University, wrote a paper called: Homocysteine: Friend or Foe?
Brilliant!!
It's a must read.
Do you have low homocysteine?
Is your homocysteine lower than 6?
Share your story below.
Did your doctor say anything?
Work with you to correct it?
References:
https://www.ncbi.nlm.nih.gov/pubmed/18830896
https://www.ncbi.nlm.nih.gov/pubmed/22239874